Spreading the word for the Interstitial Arts Foundation about their artists' auction to raise money for the IAF's new collection of short stories, Interfictions II.  The info below is from our website: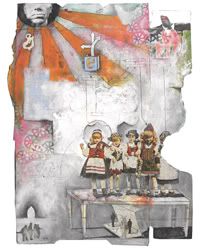 The Interstitial Arts Foundation is pleased to announce the 2009 Interfictions Auction to benefit the IAF and the Interfictions anthology series of new interstitial fiction.
Artists, crafters, jewelers, musicians, designers, anyone who loves to create art – come be inspired by the stories of Interfictions, and bring us your creativity, your boundary-breaking creations, and your really cool stuff!
We invite you to create unique portable and wearable art, based on short stories from the exciting new anthology, Interfictions 2 , or from the first volume.  It's a unique opportunity for artists to get a sneak peek at the forthcoming anthology and to put their talent to good use for this year's fundraiser, which will go live concurrent with the publication of Interfictions 2 in November, 2009.
The IAF's 2008 Interfictions jewelry auction was a terrific success, and we're looking to raise even more funds this year by expanding the artwork you can donate.  The only limitation is that donated pieces must be easily worn or carried:  it could be jewelry, bags, scarves, small paintings, clothing, calligraphy . . . even songs! The key is to think small and/or portable.  All we ask is that each be directly inspired by an Interfictions story. Check out the Interfictions 2 Auctions FAQ for more ideas and information.
This is a chance for a unique collaboration between writers and artists, a platform for a dialogue between creators in different mediums, meeting at the conjunction of words and art - and bringing together a community of people who refuse to be categorized.  Please help us to fund another year of art and words in the interstices of vision, ranging outside the narrow limits of genre limitation to create something new for all.
Through our network of internet outreach around the auction, your donated work will reach a huge network of people who care, as you do, about breaking boundaries to support Artists Without Borders. In exchange for your donated art work, we offer you the glory and fame that come with having your name and link posted alongside your artwork on our auction page, as well as the sincere appreciation of the IAF, and the knowledge that you are helping to make it all possible.
To learn more about the auction, how you can help to contribute your art, and to find a story from Interfictions 2 to inspire you,  please go to the Interfictions Auction Call to Artists web page.
Summary of Links:
•    Interfictions Auction Announcement
•    Auction Call to Artists
•    Interfictions Auction FAQ